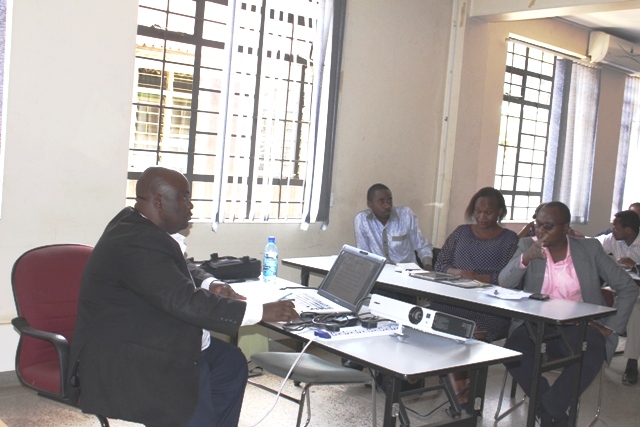 Dr. Maurice Onditi Kodhiambo (left) presenting his PhD proposal at UNITID.
University of Nairobi Institute of Tropical and Infectious Diseases (UNITID) hosted Dr. Maurice Onditi Kodhiambo for the presentation of his PhD proposal on 24th March, 2016.
Dr. Onditi, a pharmacist and lecturer at the School of Pharmacy presented the proposal titled: Determinants of access to quality treatment of pedriatic malaria in the devolved health care systems of Homa Bay County, Kenya.
In his presentation, Onditi explored malaria treatment among children patients in the county's healthcare facilities since the devolution of healthcare services by the Kenyan government.
His supervisors were Dr. Julius Oyugi, Senior Lecturer and Deputy Director, UNITID-UoN, Dr.Beatrice Amugune, Senior Lecturer, School of Pharmacy UoN, Dr. Walter Otieno, Senior Lecturer and Head, Paediatrics Department, Maseno University, and Dr. George Kosimbei, Senior Lecturer, School of Economics and Director, Chandaria Innovation Centre, Kenyatta University.
Present during the event were Prof. James Machoki, Director UNITID, his Deputy Dr. Julius Oyugi, and other PhD students at the institute.
Prof. Machoki wished Dr. Ondieki well in his future endeavors saying his agenda as the UNITID Director is to nurture and come up with as many PhDs as possible and put the institute on top of the continent.
Click here to view photo gallery. [1]